Ellie S. Konstantatos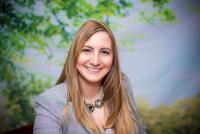 Curriculum Vitae:
Ellie S. Konstantatos was born and raised in New York, New York. She received her Bachelor of Arts from Fordham University in 2006, and received her Juris Doctor degree from Hofstra University Law School of Law in 2010. She commenced her employment with Torino & Bernstein, P.C. in September 1999, while in high school, as a member of the support staff.
Throughout college, she worked part time on the firm's administrative staff. Following her graduation from college and upon entering law school she worked as a paralegal, then as a law clerk.
Upon admission, Ms. Konstantatos became an associate with the firm, practicing in the area of civil defense litigation. She is fluent in Greek.
Ms. Konstantatos was admitted to the New York State Bar in 2010, and was admitted to both the U.S. District Court Eastern District of New York, and the Southern District of New York in February, 2012.
Ms. Konstantatos currently resides with her husband in East Williston, New York.